Stratford Residents Rave About Dr. Patricia O'Brien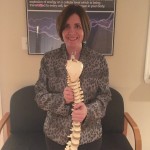 What Our Patients Say…..
What others say about chiropractic care can help you make the right health care choice. Review a selection of our patient testimonials below and please email me or contact the office if you have any questions.
Yours in Health,
Dr. Patricia O'Brien
---
I was very happy with my first visit. I walked in with pain and walked out feeling 100% better. Thank you!

Super friendly. Very relaxing facility. Great hours. Knowledge is great. The doctor listens to your issues and works with that information to help you. Highly recommended.

Dr. O'Brien and staff are awesome.

Wonderful experience, looking forward to going back!

Thank you for giving me hope to help relieve the pain I've had for so long. I'm so encouraged. I was very impressed how knowledgeable Dr. O'Brien was almost immediately after seeing me. She knew right away what the problem was.

My first time meeting Dr.Trish. I thought she was very thorough and attentive to my needs. I left feeling very confident that she will be able to help me.

I had an amazing first appointment here and I will definitely be returning!

My husband and I were so very pleased with our visit and care–should of got here sooner!

I've been to quite a few chiropractors and Dr O'Brien is by far the best doctor ever. I'm so happy I found her and can't wait for my next appointment!

The office staff was excellent.

Felt like I have been coming for a long time. Felt very welcomed

I felt really good after my visit and I can't wait to return.

Great experience all around

A professional and courteous staff in a very clean and soothing atmosphere! 

I recommended your office to my dad Stanley. He made an appointment already. Your staff is excellent and very caring. Explanations were given very clearly and I had an excellent experience.

The waterbed was a bonus.

Dr. O'Brien made me feel very comfortable and very hopeful that she will be able to help me.

Felt very comfortable the minute I walked in the office. I believe I will get help.

Dr. Trish was amazing and so knowledgeable. She told me how to adjust my routine to better my spinal health, things I didn't even realize I was doing wrong. Thanks Dr. Trish!

Dr. O'Brien was fantastic and when I left I felt much better. When needing any follow-up visits, it's always the best!

I was so impressed with Dr. Trish. Her knowledge and gentle manipulation was comforting and I knew from my first visit that with her help, I would be on the road to recovery very quickly. The office staff is friendly and reassuring.

We love all of you! So happy to see Dr.Bob back again. We'll be back!

My husband and I were very surprised in how attentive you were at listening to us. You took the time to get to know us as well as being extremely thorough. We appreciated you seeing us on such short notice and are looking forward to our next visit. Thank you!

I was very satisfied with Dr O'BRIEN she was great I felt very comfortable with her.

Thank you so much for helping me!!!

Dr. Patricia O'Brien is a God-send. I'm so grateful I found her.

Just surprisingly satisfied with hope to feel more normal physically. Thankful.

Dr Bob was great as usual being I had been away for a long time! A pinched nerve in the neck! It was nice being back at your practice! Thank You! Looking forward to this going away! Friendly staff and awesome doctors!

Every aspect of my visits has been tremendous. My pain has subsided and I feel great due to their incredible care.

Very friendly staff and the doctor I see is very helpful and knowledgeable. The treatments are starting to help me get better.

Dr. Patricia is great! I felt better almost instantly after her adjustments! I look forward to going every week! Thank you!

Everyone was very nice and helpful. I recommend this office!

Dr. Trish was amazing and very through with both the examination and the treatment process.

Beautiful office, very clean and very comfortable.

Dr. Tricia is an excellent doctor who takes everything into consideration when diagnosing you. I have great confidence in her. She's one of the best

Very friendly environment and very professional staff. They make you feel like family.

Everyone is friendly and helpful and made me feel comfortable!

We were very pleased, with Dr. Trish. She took time to listen, and was very thorough. I would be very eager to refer anyone who had back or spine issues. Thank you Mc Gettigan family for this referral!

Very friendly staff, will recommend to friends/family!

I love Dr. O'Brien! She knows what she is doing. She listens and truly makes you feel important. She offers such a relaxing experience and she alleviated a lot of my pain in one visit. I look forward to my next appointment.

THE VERY BEST! May be others as good, although I at 70 years young never found any, that being said I am sure no better Doctors are out there.

Dr. O'Brien and her staff are excellent. Very thoughtful and understanding. I appreciate her professionalism.

Dr. O'Brien and staff are always willing to go the extra mile.

Dr. O'Brian was awesome as well as his staff. I have insurance and even though they don't take it. I went and paid cash just because of his staff. Once I was seen by the Dr. it made my decision even more wholesome. You guys rock and I feel the difference already

I would recommend Stratford Chiropractors to everyone, very professional and really nice people.

Can't wait for my next appointment.

I like the fact that I was treated as a person. Dr. O'Brien spent time and asked questions. That's a wow. Great people.

Thank you!!! I'm a believer now.

Thank you for your service. I finally found what I was looking for. The office is very clean, and the staff are very nice and helpful.

I love everyone at Stratford Chiropractic office! Dr. Patricia O'Brien is great!

Dr Patricia provided me with information about my health that I need to look into: things my primary/specialty physician should have informed me of. I was very surprised at the initial results I got just from the 1st visit. I look forward to my next one.

It's such a relief to have both a wonderful Dr as well as a wonderful office staff.

Dr. O'Brien is excellent.

Extremely pleased with the office personnel. Dr.Patrician O'Brian was very helpful and LISTENED to my questions and added suggestions. I am able to see her in 2 days for a follow-up visit. I feel that she is a very caring and capable doctor. I am extremely happy that I found someone that will be able to help me.

When I walked into your office, I felt like I was in someone's home. I would say that it is probably the nicest office that I have encountered. The Saturday pretzel was appreciated.

Couldn't be happier with everything about this practice! My back has never felt better!

She was very nice and listened to me. She made sure I was okay during each adjustment. Great doc.

The entire staff and doctor were so warm and friendly I felt very comfortable here. Thanks!

The Staff had smiles that made me feel like I was definitely in the right place, and in good hands.

Don't change anything, A1 chiropractic services.

This was my first visit ever with a chiropractor. You hear so many things about the validity of what they do. This practice is professional and legitimate!

I have comfort in my lower back. It's amazing what can be done to a body to resolve the pain. Thank you

I left you all a good review on Google so that other people will know how great I feel!

I did not have an appointment but was accommodated and received excellent care.

Thank you for seeing me at that late hour. Everyone was kind and courteous even at eleven o'clock! Thanks and God bless you all!

Very dedicated to her patients, caring and expertly knowledgeable.

I was very happy with my visit. Feeling better already. Thank You, Dr. O'Brien! 

Love the massaging water bed for the back. Also, loved that she explained more to me than anyone else ever did and didn't promise it would work because although I am hoping for that, I don't want to be promised it without really knowing.

Dr. Patricia was knowledgeable of my type of condition and took the time to explain, she is confident in being able to help my neck problem. I have felt some improvement after just one visit.

I felt fantastic after my appointment!

My first visit with Dr. Bob was more than I expected on the first visit. Looking forward to future visits. I'm very confident that my back problems will be resolved.

The visit was outstanding!

Warm friendly staff that made me feel right at home and loved the soft pretzels!

She is so nice and is wonderful at what she does

Great experience with a new chiropractor, I will definitely be back again.

They are so nice and so helpful!

I am 100% satisfied with the quality care I received the staff were just amazing in every way. Dr. Trish is an angle from above with healing hands. I look forward to my full recovery.

Dr. Trisha is a wonderful person and Doctor. She listens to your concerns and addresses each and every one. I look forward to my next visit!

I felt very welcome when I went to my first appointment. I am not completely out of pain, but I am in a little less pain. It's a bit more bearable.

Very professional and love that masks are required.

Glad I found a Dr close to home and work. A doctor who listens and made me feel extremely comfortable and positive about my treatment.
---
I'm Already Feeling Better
I have been to a few different chiropractors and would walk away in more pain then when I went. With Dr. O'Brien, she is a dream. She ordered X-rays and explained to me exactly what is going on with my body and now we have a plan and I'm already feeling better. Definitely would recommend!
- Jessica H.
---
An Excellent Experience
This was my first visit and it was an excellent experience. Office staff was friendly and professional. I was seen in a timely manner. The doctor was knowledgeable, considerate and caring. I left feeling confident of my care. Would highly recommend this business.
- Sharon W.
---
Very Welcoming
The staff and doctor were very welcoming. I felt very relaxed with soothing music while in exam room. Very clean office. The doctor I seen was very good and gentle. She listened to what I had to say. I look forward to my next visit.
- Michelle D.
---
Genuine Care
First off, I will start by saying I have been to a couple of different Chiropractors. I can safely say this will be my go-to from here on out. I have never received such genuine caring and knowledge about getting to the bottom of health issues I have been dealing with for years. I hardly had to say anything to Patricia about how I was feeling, she just knew. She made me feel secure in knowing I will finally get the answers I need to discover what is going on. I am already looking forward to my next visit. Best office ever. :)
- Kara C.
---
Very Informative
Dr. O'Brien was very personable and made me feel comfortable for my 1st experience at a Chiropractor. He was very informative and I felt he made a connection most doctors do not. He took his time explaining things and I left knowing that I would be back again. I look forward to my next visit and am hopeful my pain pain will be reduced with treatments.
- Jackie K.
---
Most Amazing Doctor's Visit!
This was by far one of the most amazing doctor's visits I've ever had! Dr.O'Brien explained everything she was doing, and she clearly explained all of the problems that were going on that had to be worked on. I felt like she really listened during my appointment and wasn't dismissive of any complaints. She went above and beyond what I expected for my first appointment!
- Alexandra W.
---
I'm Really Looking Forward To My Next Visit!
I was very pleased to be seen right away, the same day that I called to ask if they were accepting new patients. Dr. Bob and his staff are very nice, and seem genuinely concerned about all of their patients. I was treated very kindly, and they truly listened to my issues. Dr. Bob explained a lot of things, and thoroughly discussed my treatments.
- Dale A.
---
Very Pleased
I was very pleased with my experience there. The practice was very relaxing and very very clean. I would definitely come back or have my family go to this practice as well! I wasn't just adjusted and rushed out the door and felt much better after my first visit!
-Raymond L.
---
Dr O'Brien Went Above and Beyond
Dr. Patricia O'Brien went above and beyond to make sure I was comfortable and wanted to make sure I was getting the right tests and treatment for my case. Highly recommend.
-Erika B.
---
I Felt Comfortable
Thank you to Dr. Pat for the time she took to listen to me and to offer helpful suggestions and advice, even in areas not specifically related to chiropractic care. I felt comfortable talking to her and appreciated her time and attention.
-Marilyn M.
---
Fantastic!
I was afraid to come because of past surgery. After my first appointment I felt so much better. I've been in to the office three times and feel great each time. I can actually do things I could not do before. Dr. Patricia O'brien is fantastic and very skilled. I couldn't be happier. I thought I would need a 2nd surgery but I think I will not thanks to Dr. O'Brien. I have recommended her to family and friends.
-John G.
---
Feeling Hopeful
Dr. Pat is very caring and definitely wants to help me get better. She exudes confidence which in turn makes me feel hopeful. Glad my wife get on pushing me to get tested by Dr. Pat.
-Lou, Stratford
---
Comforting and Encouraging
Thanks for the amount of time you spent with me. The information you provided and the manner in which way you explained both the causes and symptoms was very comforting and encouraging.
-Anthony A.
---
Attentive and Understanding
I have bad anxiety when going to the doctor's office sometimes and Doctor O'Brien was very sympathetic and attentive to my needs as a patient all around. I will definitely be going back. Thank you to the staff as well for their understanding.
-John H.
---
In Good Hands
My daughter and her best friend are both patients of Dr. O'Brien and speak very highly of her so I decided to pay her a visit to help relieve pain in my back. I found the staff to be friendly and very professional. The doctor explained to me what she was going to do which gave me a feeling of this confidence and well being. I feel I am in very good hands.
-Jeffrey C.
---
Committed to Overall Health
Dr. Trish is fantastic. She asks important questions to really learn all about you and how she can best be of help. Her chiropractic skills are superb. I had not been to the office in quite a while and now am committed to continued care for my overall health.
-Trina P.
---
Whole Body Health
I love this office! Dr. Trish isn't about just taking care of what ails you now, she's about whole body health. She doesn't judge and she gives you great advice on how to take better care of yourself. As she's said many times, "it's a process."
-Carol K.
---
Extremely Knowledgeable
Dr. O'Brien is an extremely knowledgeable, skilled, professional, and caring individual. I would recommend her highly to anyone needing chiropractic care. In fact, I have! :)
-Ann Marie G.
---
No More Neck Spasm
Dr. Trish was the only one able to get my neck out of spasm. Suffered a long time with these injuries from the car accident back in 2010. Continuing with visits to feel better. Love & Blessings to the team.
-Patti L.
---
Dr. Trish is Truly a God-send!
I felt welcomed and cared for from the first moment I walked through the door of Dr. Trish O'Brien's office. Dr. Trish's girls - Donna and Kristen are very friendly and professional. You think you are with family when you are with the Doctor and her girls. Dr. Trish is truly a God-send! She has helped me so much in such little time. I found Dr. Trish and I'm here to stay! Come and see Dr. Trish - I'm sure that she will help you - whether it's for a medical condition or for maintenance. Come in and see, you will be so happy that you did!! Thank you, Dr. Trish!! xo
-Lisa M.
---
I Highly Recommend
Dr. Trish was very helpful and took the time to make sure the treatment I received was customized to my unique needs and situation. Everyone in the office made me feel welcome and part of the family. I highly recommend Dr. O'Brien for your unique healthcare needs.
-Richard P.
---
Outstanding Care
I have been to many different doctors with the hope that someone could help me to feel better. My back would always give me problems. I have been dealing with chronic pain for over five years. Dr. O'Brien did more for me in one week than ALL the other doctors did in the last five years! I can't even begin to thank her for her dedication and genuine care for her patients. I only wish I came to her sooner. She is the best-kept secret in South Jersey!
-Karen B.
---
Warm and Inviting
Dr. O'Brien and her team of professionals make every visit as warm and inviting as possible. The doctor really listens to your concerns and goes out of her way to better your quality of life. My wife and I would truly like to thank Dr. O'Brien for everything she has done for us, her positive attitude always leaves you to want to come BACK. Thank you for all your help.
-Jim and Bern
---
Very Professional
Dr. O'Brien was very professional...very thoughtful and gave me a great amount of attention. She checked my ex-rays and MRI results thoroughly and did not attempt any procedure that would hurt me from what was seen on my test results. I would highly recommend Dr. O'Brien and her staff and will be the only Chiropractor that I will go to. Thank you...
-David E.
---
A Doctor Who Truly Listens
Dr. O'Brien is a doctor that listens!! Which is rare at times! She genuinely cares about you and your problems. I am not one to go to female doctors, but I will go to her!:) Thank you, Dr. O'Brien, for your caring and services.
-Dottie F
---
A Heartfelt Doctor
Dr. O'Brien is a heartfelt doctor who listens at all times, helps in any way, and makes situations that seem impossible, possible!! I am 100% satisfied with the services that have been provided.
-Afton W.
---
She is very thorough
I can't say enough good things about Dr. O'Brien. I recommend her to anyone that works in an office or drives for a living and has back pain. She is a great listener! Go in and see her. Your back will thank you for it ;)
-Jennifer C.
---
---
Providing Comprehensive Chiropractic Care to Stratford, Laurel Springs and Somerdale